IG – artist_neha.s
YT – Neha Fine Art
An amazing thing about art is the variety.  As I scroll through the artists I follow on Instagram I am amazed at the different procedures, products, tools, and processes that I see.  For abstract art, the sky is the limit.  But recently I was stopped mid-scroll by a pink hydrangea that was photographed unfinished.  I could not stop looking at it so, of course, I looked at the artists' other works.  A sunflower, a rose (also pink), a horse and a dog.  The only word I can think of is: stunning!  I reached out to the artist to learn more about these incredible watercolors.  And that is how I met Neha.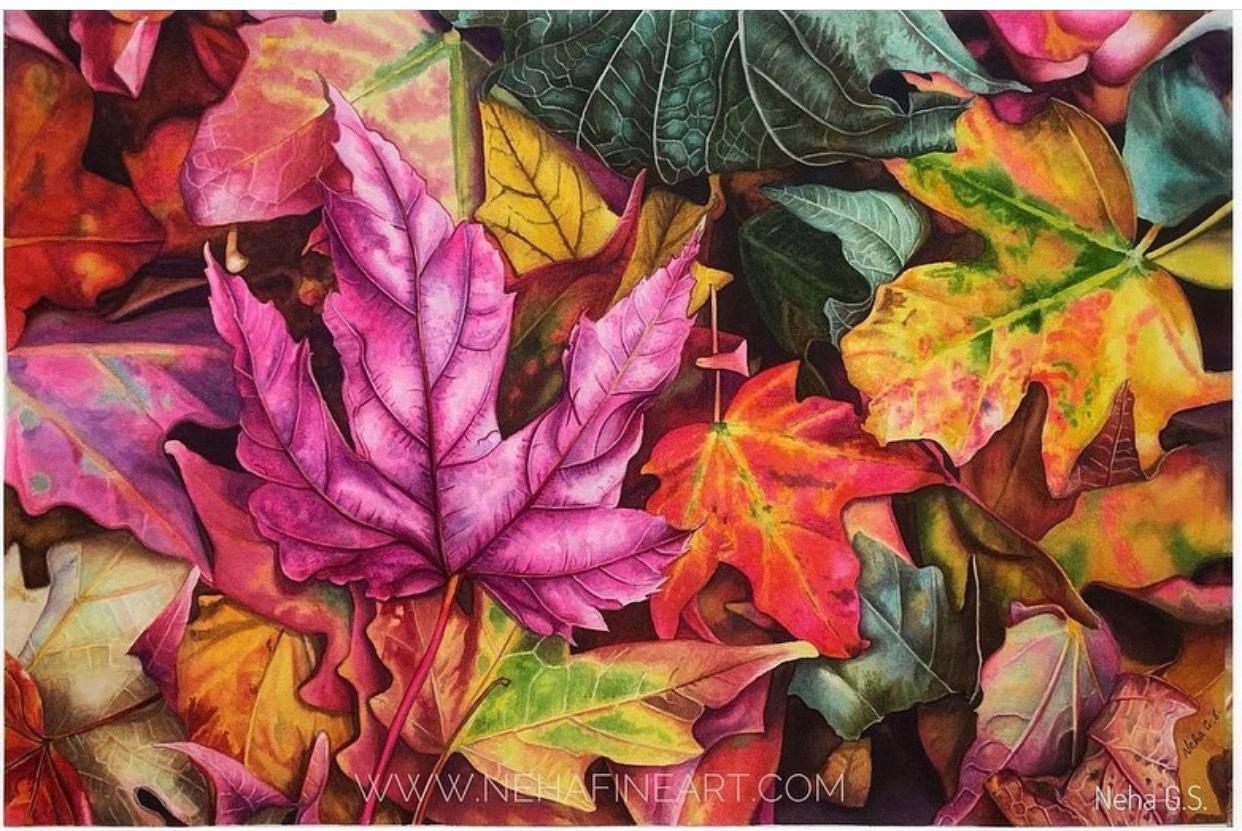 Neha is originally from India, but her and her family have lived in Dubai for a long time.  She has always been a painter and loves it.  She actually comes from a very artistic family, but my impression was that they don't all get to nourish this artistic side.  They use it as they follow their careers as architects etc.  Surely artistic talent helps in those chosen fields, naturally.  Neha herself became an interior designer.  She did not study fine art in school.  
Life happens, and she stopped her interior design career to raise her son.  We all know there are many responsibilities for wives, mothers, and daughters.  Neha is all of these things and in her culture, this is an important responsibility.  My mother was the same, the importance of family came first; and I am always grateful for women like these.
With her son came new art opportunities.  She started art classes for him and his friends, teaching them to draw.  Meanwhile she was always honing her skills, learning new mediums like charcoal, acrylics, oils and more.  These small classes grew into an art institute in India, and she handled every aspect of it.  It meant hiring and training teachers, developing a curriculum, finding more students, and running the business day to day.  She was immersed in art now, and she was loving it.  An opportunity to be doing what she loves every day, she would never go back to interior design!
Then her husband got a job in Dubai in 2015 and it was time to move.  Ever the good wife and mother, Neha closed the art school and saw the bright side; a chance for her to work on her own art had arrived.  She could not open a business in this new country so she focused on what she loved; painting every day.  She also discovered that she could take online art classes and she loved this new way to learn.  She had access to the best teachers everywhere in the world, and could pause their videos and re-start according to her schedule.  
2017 arrived and something new also came for this life-long artist.  Watercolor realism.  When Neha told me this I was surprised, an artist who was immersed all her life in art found a new medium and in a few short years has become so proficient at it!
You can see immediately as you look at her work, she loves the fresh look of realism in her paintings.  As she puts it, "I like to put myself into my paintings".  Neha likes the challenge of small details.  The video on her IG (artist_neha.s) of painting the rose blows me away.  Each line, every small shade difference is well thought out.  She tells me that the way watercolors mix on the paper amazes her.  That is why she enjoys using watercolors.  She adds colors that the typical person would not see.  I fall into that category (the typical person).  I look closely at the rose painting which looks like pinks and whites.  Maybe 5 shades of pink?  Neha laughs and says there is violet in there along with some orange and yellow.  How can you count the shades of color in a painting.  Every time the brush touches the paper it is laying down a different shade depending on what was just added and what was already there. This is what draws Neha to watercolors now.

How do you ensure the colors won't fade with time?  Neha says she uses only high-quality paints, that is the key.  Saving money on paint will not be a long-term benefit for any artist.  Of course we keep paintings away from direct sunlight!  This is also a good tip.  
So she has converted from primarily oil painting to now a watercolor artist.  I asked her about the time spent on each painting and she said the apple she did took about three hours.  It is very impressive but without a lot of small detail work.  Other works like the hydrangeas that caught my eye at the beginning take her two weeks to complete.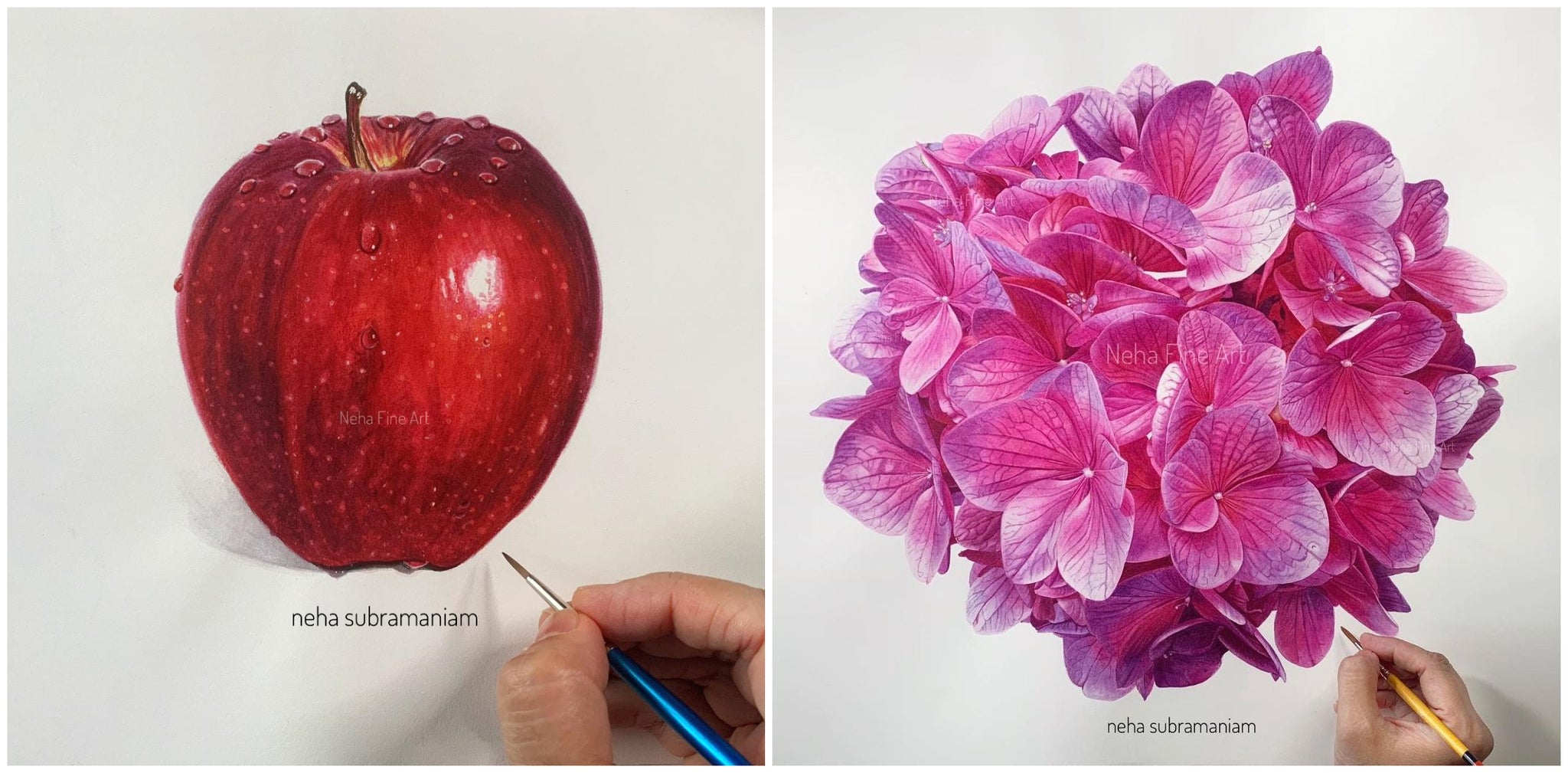 Besides painting every day, Neha has tried to expand her social media.  She offers free tutorials on her YouTube channel (Neha Fine Art) and has started giving live classes on Zoom.  She tried using Patreon as well, but the rigorous schedule of producing content became too much for her.  So now she focuses on helping others with her zoom classes.  Neha loves to share what she has learned, she loves to teach, but at the same time she wants to keep time for herself so she can simply paint.  
Her advice is to practice every day.  If you get that nervous feeling when you have a new canvas and you are about to put the first stroke on it, don't fret about it.  That feeling never goes away!  She loves that feeling, about to spoil something to create something new.  Use technology to learn from master artists.  There are no borders now, if you find an artist in Canada or UK or Dubai then take the opportunity to expand your skills.
Neha is grateful that she comes from an artistic family and was able to follow her artistic dreams.  Her husband's support was the most valuable thing she had in this journey.  Art is her therapy, her meditation time.  When your brush is on the paper your mind cannot be somewhere else; this requires singular focus.
Her last sentence strikes me, she says "we are our paintings, it should come from your heart".  Well said, Neha.  In fact you cannot spell "heart" without "art".  It was a pleasure for me to spend some time introducing Neha to the Artify family.