Artify had the good fortune to meet a customer in Indiana this month.  It all came about because of a shipping mishap that damaged her delivery of Artify markers.  I'm not sure if you have noticed, but on most 'product description' pages you will see us bragging about our customer service.  We are not snooty art lovers who have complete disregard for the common man – we are the common man!  That's why our markers are such high quality for such a great price!
Okay, I don't want to get distracted by ranting about our quality.  But it's so good, and the price is so reasonable if you compare to other….
Seriously, this post has to be about Tiffany, not about Artify.  Tiffany mentioned in her email to us that her daughter is autistic and she uses coloring to sooth her.  Well, that really piqued our interest so we had to know more.  It turns out that Tiffany also has emotional damage, I hope she doesn't read that word "damage" as an insult.  We all have damage, it's impossible to be out in this world today and keep ourselves in pristine, showroom condition.  A classic car has greater value because of its damage.  A fine wine gets more value as it ages, the dust on the bottle shows its true value.  Damage is a badge of honor.
Well, Tiffany is not one to worry about her "damage".  Emotional problems, autistic child, parent passing away from COVID, a battle with that virus herself, and add to that the money struggles of being a single mother; well Tiffany is looking for solutions, she's not worried about a little dust settling on this vintage bottle.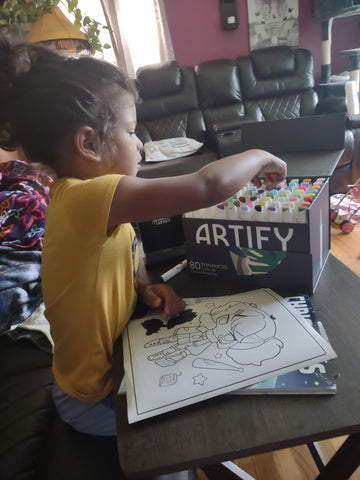 Tiffany started a coloring group this year because she saw the calming effect that coloring had on her little girl.  At five, her daughter is very careful with the markers and slowly getting used to using these tricky things.  Going from coloring pencils to alcohol markers is a steep curve, but she is doing very well.  Single Moms of Autistic Children who Color – SMACC.  That's the group she has started and she told me that her dream is for this group to be international one day.  It was so nice to talk to Tiffany because this is a truly selfless person, and we honestly need more of that in today's society.  She doesn't get anything from helping others (by the way, the group has more than 70 members already), except for the warm feeling that comes from helping others.  There is also that warm feeling of knowing that you are not alone.  I mention the old saying "misery loves company" but Tiffany is quick to point out that this group is for people with social anxieties and depression; they don't really like company at all.  The truth of this statement made me laugh out loud.  She has her sense of humor still!
@smacc9285 is the Instagram account that you will want to follow.  At Artify we just love hearing how art helps people.  If we are not artistic, we can still make an effort to do something artistic every day.  Join a coloring group, or create your own coloring group.  Support people like Tiffany and her beautiful daughter who finds soothing comfort in this simple activity.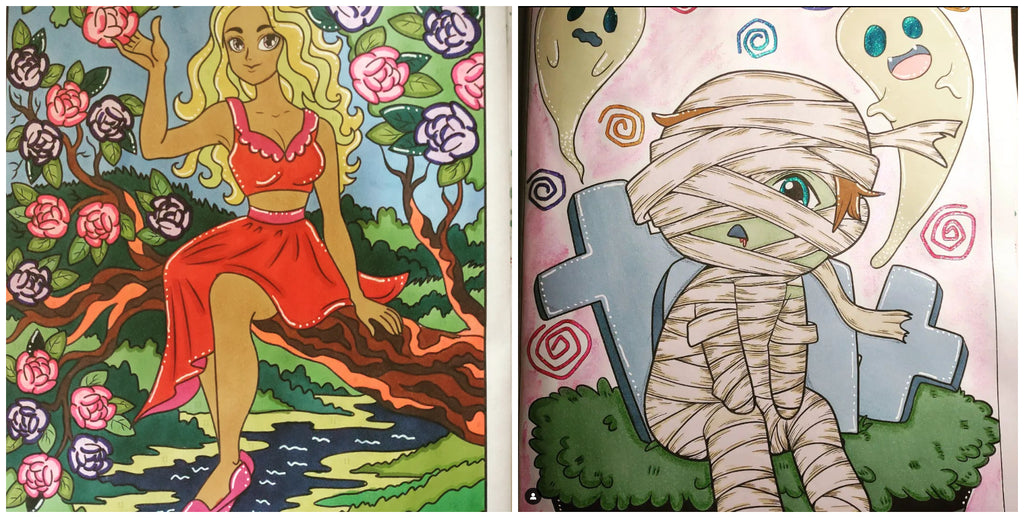 Tiffany supports her group by finding companies to sponsor them, send them coloring books or markers or any supplies they can spare.  If you want to support her, check out her IG page.  As humans we have the responsibility to care for these "damaged" ones so they know that the entire world is not filled with mean people and monsters that are out to get them.  I am tired of reading about stolen identities and cyber attacks and even about physical attacks.  Tiffany is trying to make the world a little bit better – not only for her and her daughter but for anyone else that wants to join their group.  We at Artify want to thank her so much for what she is doing and we hope that she will have her international group one day.  In this way she will be able to show even more people that they have a friend.
Have you colored anything today?  Have you picked up a paintbrush this week and practiced some art?  To call art a hobby is like calling football a game.  There is so much more to it than that!!  Try it today, pick up an instrument of art, and produce something today.  Post it, tag it, share it, or just set it aside and forget about it; the journey here really is the destination.  The time you spend will not be wasted.
So that's our post for this week.  We wanted to introduce you to our friend – Tiffany.  She is great!
PS: We are very happy to have this opportunity to help Tiffany and her team. We feel deeply that she will always have a grateful heart.