From Stephanie P.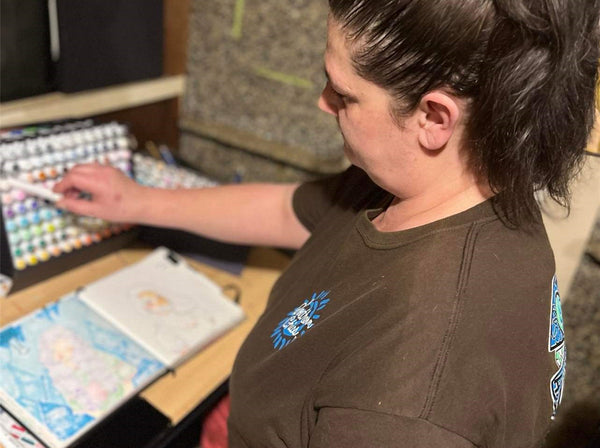 When I first saw Stephanie's marker-art I was really impressed.  She has a real talent for drawing faces, particularly faces of women.  European, African, Native American, Asian women.  That was my simple first impression – just that she was a talented artist, like so many others.  But once I met Stephanie P my impression of her changed dramatically.
Stephanie enjoyed art class in High School and remembers fondly her time painting and drawing as a teen.  She did not pursue art as a career because life got in the way.  A son is her pride and joy and she worked hard to provide for him.  No time for things that were interesting in high school.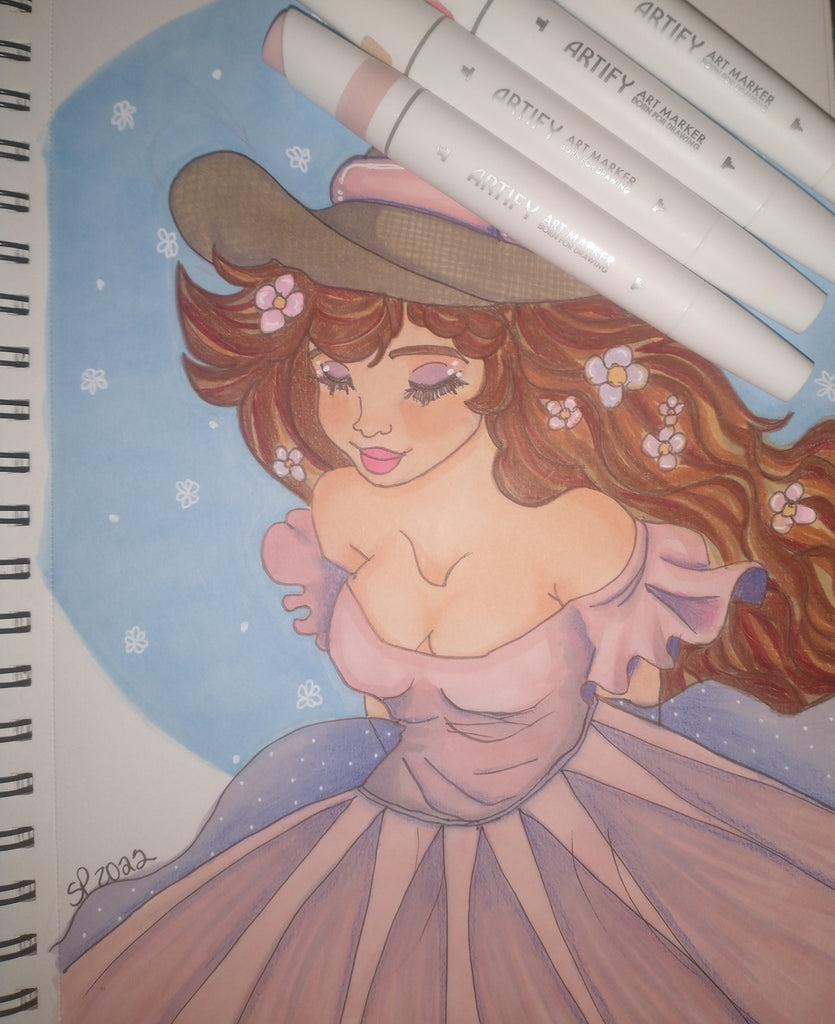 Today that son is 24 years old and they are still close.  This tells me her time was not wasted.  But for the past five years Stephanie has been battling cancer – twice! Her hands were too shaky to paint, she thought practicing art would help her distract herself. Her pivotal moment finally came when she discovered alcohol markers.  On a personal note, I'm proud to say she is a big fan of Artify markers specifically, but we will let Stephanie tell you more about that later.
An impressive conversation with Stephanie P.
When I was talking with her, I was amazed to hear her say things like "my pain went from a ten to a two", and "I went from merely relaxing to actually feeling joy".  Stephanie is a remarkable woman, she said she does not use any mood control medication, her art helps her mood that much!  She feels like there is a bubble around her when she is creating, and it really comes through in her artwork.  Strong women, standing up, facing forward, glowing with strength.  That's what I see, and it comes from the artist herself.  Stephanie does not talk about her struggles with cancer, her pain and her problems.  Stephanie is busy trying to create something every day.  She has found art therapy and she believes that it has helped her immensely. 
What is her preferred instrument today? I was interested to know if she was enjoying the ink mixing ability of the alcohol markers.  She is self-taught, was it an easy transition from paint?  A resounding YES!  In fact Stephanie told me the markers are similar to paint, you can see the ink running on the surface of the paper, and this is what makes her feel better – the colors lift her spirits.  She has created a Facebook group called God Gave Me Art, so she can share her art and find joy in other's art as well.
What is your favorite tool today Stephanie? Without hesitation she starts singing the praises of the BOHO series Chisel Tip markers.  This surprised me a little bit since personally I have been dabbling with the brush tip markers and I think they are amazing.  Stephanie stops me right there.  The chisel tip will make you forget all about your brush tips.  She tells me that they let the ink release so quickly and smoothly, it's like having a chisel tip, bullet tip, and brush all in one.  And the BOHO color selection is just perfect for skin tones and almost everything she likes to draw.  She also takes time to let me know how impressed she is with the durability of the markers.  She uses them a lot.  This cannot be overstated, she is a heavy user and they are not wearing out.  The tips are in good shape, the ink flows just as well today as the day she got them, and they feel like high-quality markers in her hands.
I want to talk more about Stephanie herself, but she goes on about the markers a little more – as if I need convincing!  She had poor quality markers at the beginning, and they frustrated her and almost made her give up on art.  She recommends to everyone she meets, buy good markers.  They don't have to be the most expensive markers but they should be good quality markers.  On this point we come to another agreement – buy good quality and learn from the mistakes of others.
I told her that the chisel tip on Artify's markers is our own design.  A professional artist helped us design it and we used his art students to do Beta testing before releasing it to the market.  This marker design did not come about by accident.
After we had talked for about an hour, I realized that we only spoke about Cancer for a brief moment at the beginning.  Cancer is not going to define Stephanie P.  I'm sure you noticed what I did about her art.  This is therapy for Stephanie, but she is drawing herself each time.  That powerful native American woman with her hair blowing in the wind is Stephanie.  The stunning blonde, the radiant Asian, the coy black woman – these are self-portraits of a strong, independent woman who raised a son in Birmingham, Alabama.  Her son clearly loves his mother today, you can tell right away that they have a wonderful relationship.  Who can blame him, his mother is amazing!  We are so happy to have been able to spend some time getting to know this artist this month.
Artworks from Stephanie P. during her therapy