Here is another beginner topic for us to try together.  I remember as a kid trying to use my wax crayons to layer colors, scraping off the wax layer and putting down another color, it was fun but time consuming.  I want to try the same thing with my new Artify markers and see how it goes – I'm assuming my fingernails will stay clean this time!
So, I am going to start by just laying down three lines; you can do this with me if you want – try a different color and let's compare.  I'm using R617 but I'm also going to try it with a soft color like B003.  Using the broad tip, I'm just making three lines.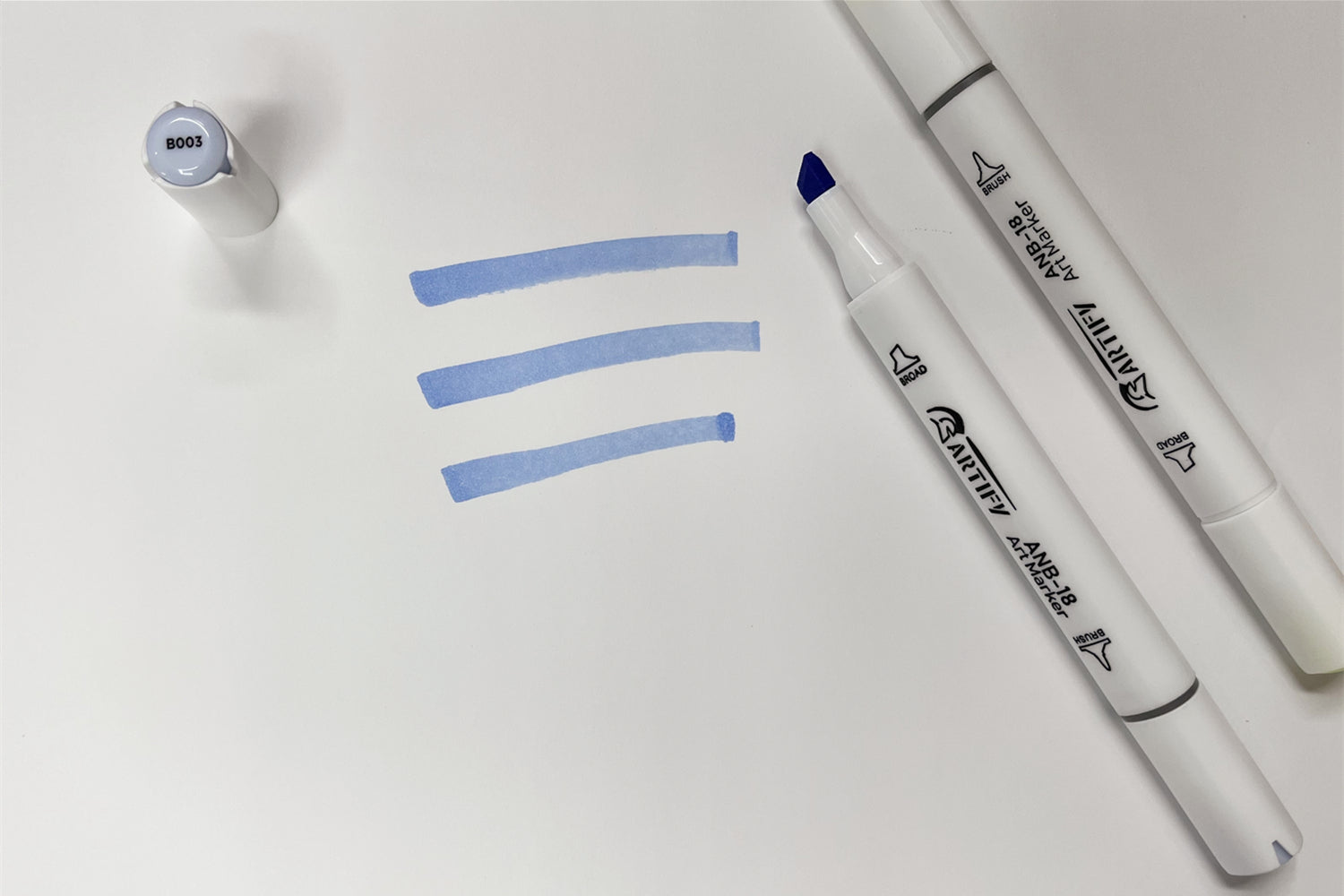 Now comes the fun part.  You will see a magical difference whether you are using a dark color or a light shade.  Put down a second line on top of the second line.  And three lines on top of the third line.  Let's cap our pens and take a look.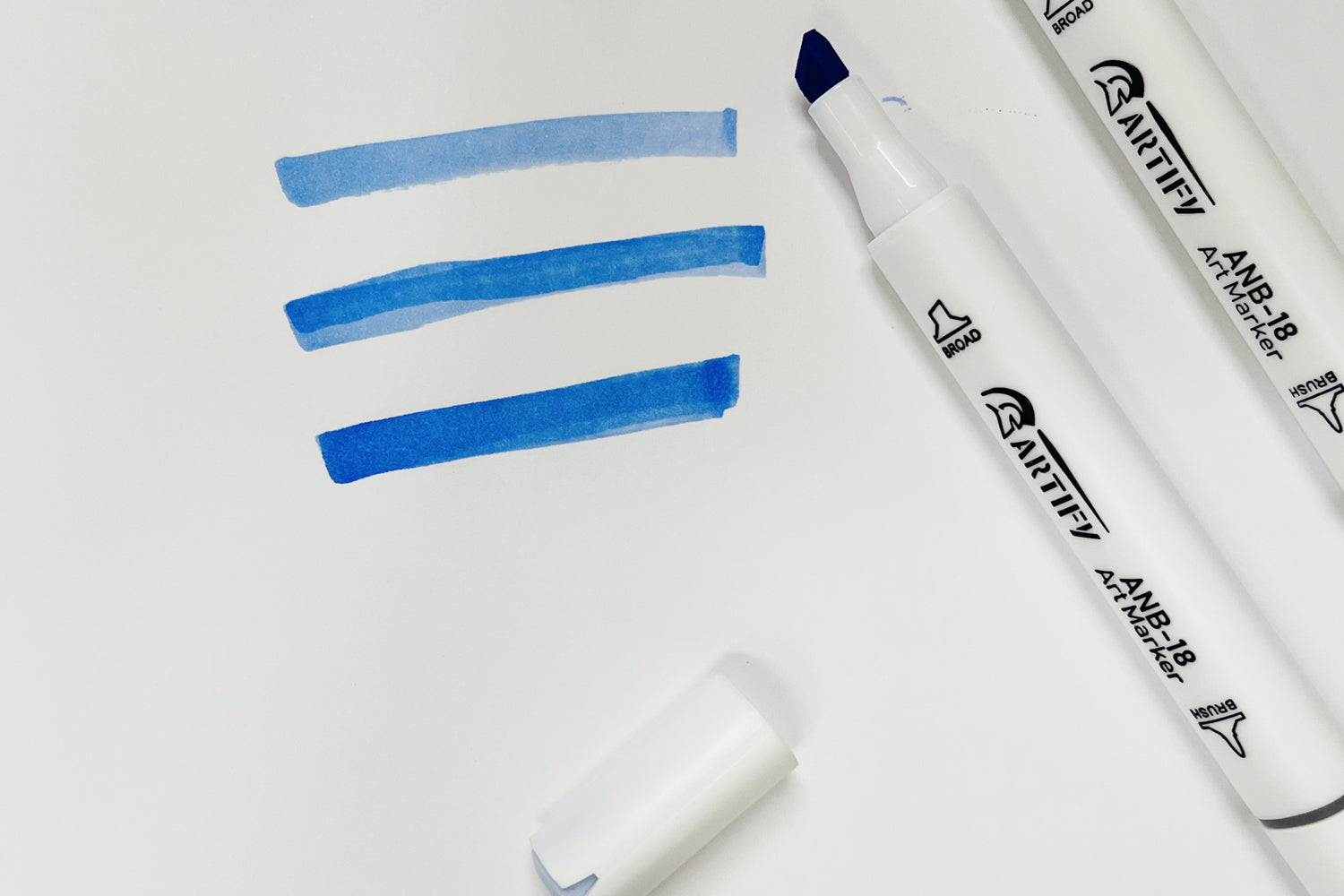 So, we can accomplish a different effect based on how many "coats" we apply of the same color.  Going over the same place multiple times gives you darker coloring.  I know what you are thinking, I am thinking the same thing.  Let's try four times!  Maybe five!  I love watching this dry!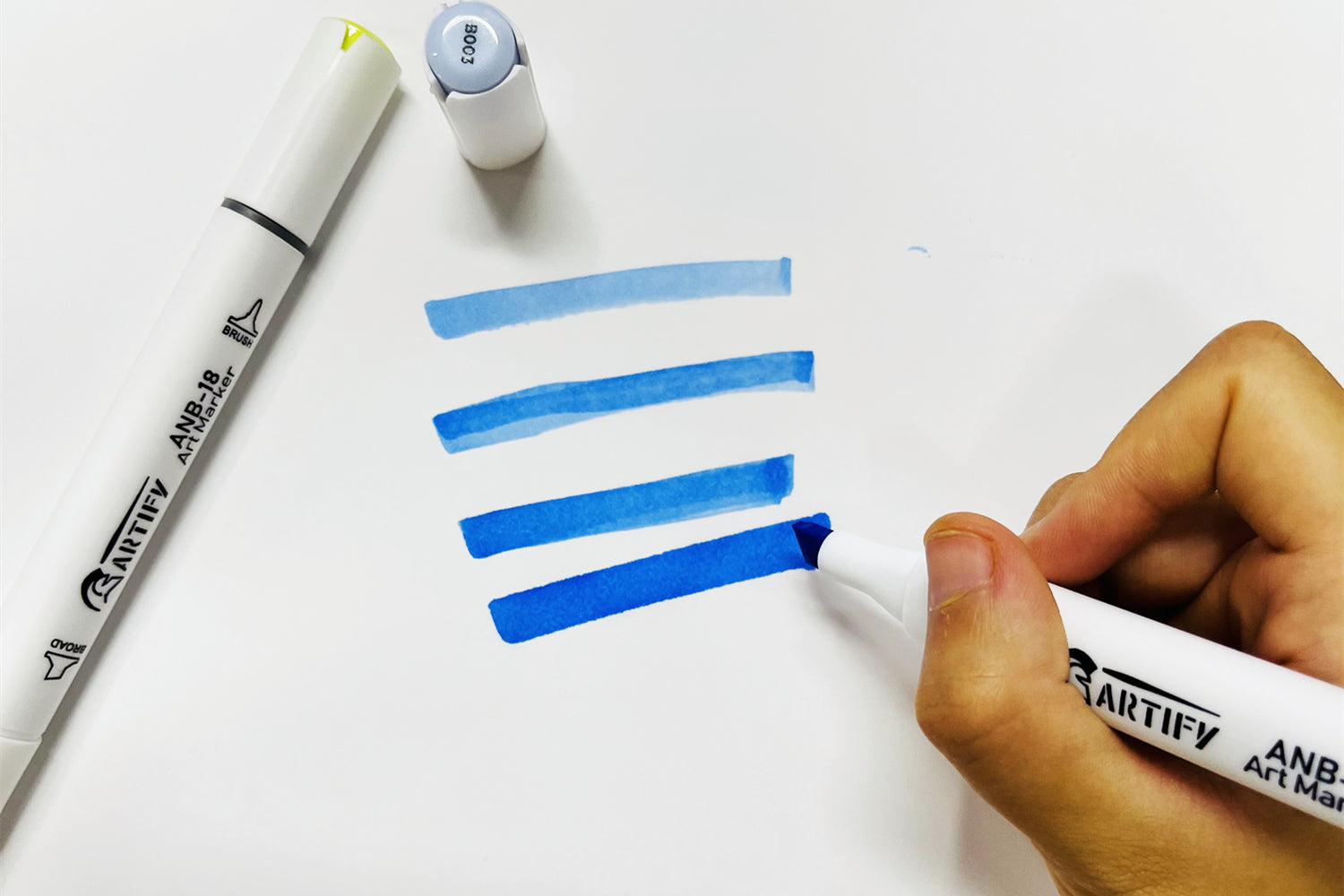 I supposed I should have mentioned paper before we got started.  Yes, you can play with this on regular paper but if you want to really know how these are going to perform when you are drawing, you will have to practice on bleed-proof paper.  But you don't want paper that will absorb so much ink that it makes coloring hard.  For Artify alcohol markers we like papers that weigh 70-250 gsm.  That's' another topic entirely.  Let's get back to our layers!
I see a dramatic difference between one layer and four!  Let's play with these lines a little bit more and do some blending now.
Let's try a complimentary color – if you used blue now switch to yellow.  On my pink I will try a blue.  I'm going to match G804 with B003 and see what happens.  There are no wrong answers here, just trial and error.  On the three lines I made in the layering exercise I am going to lay down one line of my second color.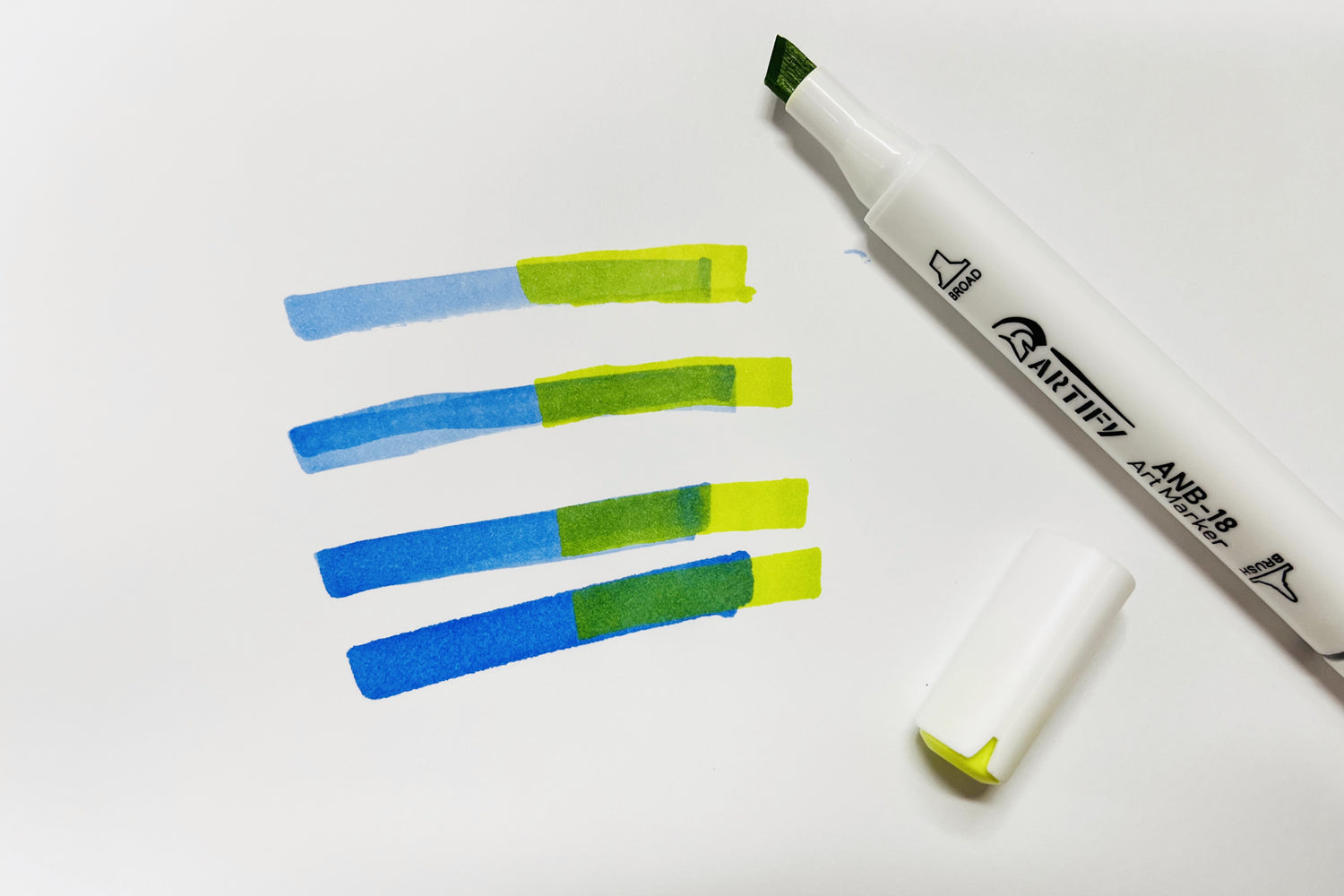 Now it makes sense to put two lines on the second line, three layers on the third line and four on the fourth.  Let's give it a try!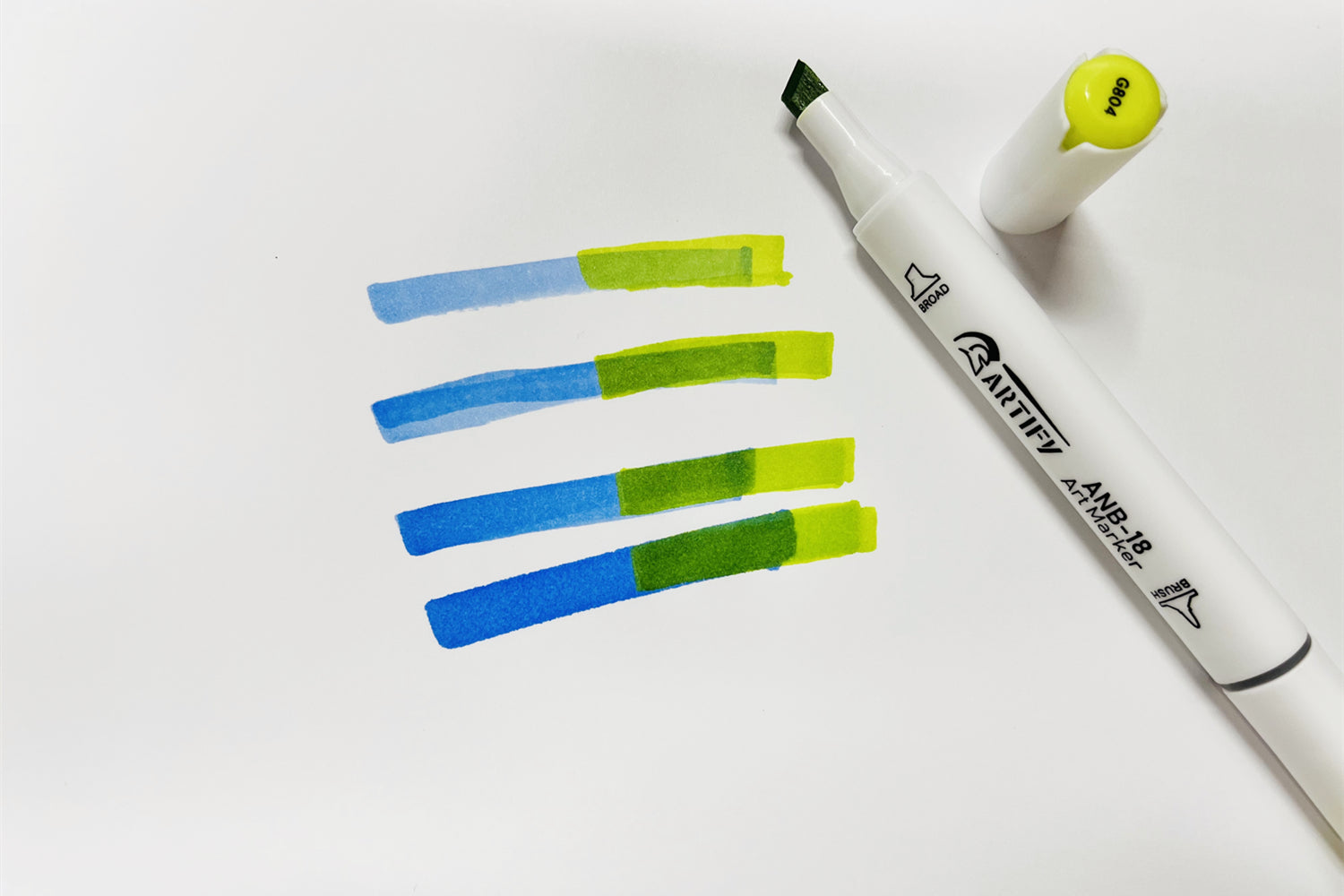 That is amazing!  I hope you will share your photos with us here at Artify!  Naturally I wanted to see what color I have created so I used all of my greens under the new blended color.  G237 and G256 are pretty close, but not exactly.  And the lower levels of layering are lighter and unlike any of the colors in my set.  I have added colors to my collection without having to buy any markers.  I can't wait to try this in practice.  Thanks for joining me – now go and create something!  Share it with us on Instagram.  We want to see your creative side too!